Photos are some of our most treasured possessions. They capture precious memories and moments in time that we never want to lose. As photographers, we pour our hearts into every image, hoping to preserve special life events, beautiful landscapes, and powerful emotions.
That's why properly backing up your SmugMug photo collection is so critical. Hardware fails, accidents happen, and disasters strike when we least expect them. The pain of losing your photographic work is immense.
This guide will walk you through all the best practices for comprehensive SmugMug backup. Follow these tips, and you can sleep soundly knowing your photo memories are safe and secure.
Outline of Article Contents
| Section | Topics Covered | |-|-|
| The Risks of Losing Photos | Permanent loss, hardware failure, file corruption, theft | | Backing Up SmugMug Photos Locally | External hard drives, RAID arrays, optical discs, local backup software |
| Cloud Backup Options for SmugMug | SmugMug's built-in backup, other cloud services like Backblaze | | Automating Your SmugMug Backups | Scheduling backups, setting reminders | | Storing Backups Offsite for Maximum Safety | Online cloud, external hard drives kept outside your home | | Testing and Verifying Backups | Restoring sample files, checking backup logs | | Backup Strategy By SmugMug Storage Plan | Backup tips for Power and Portfolio users | | Photo Recovery If Backup Fails | Data recovery services, SmugMug help |
The Risks of Losing Your SmugMug Photos
Losing your treasured SmugMug photos is every photographer's worst nightmare. Unfortunately, permanent loss can occur before you even realize it. Here are some common ways photographers can lose their life's work if proper backups aren't in place:
Hardware Failure
From hard drives to memory cards, all storage devices have a limited lifespan. Disks can suddenly crash or develop bad sectors, rendering photos unreadable. Hardware failure is unpredictable – backups must be in place.
File Corruption
Improperly ejecting devices, virus infections, software bugs, and power failures can corrupt image files beyond repair. File corruption is often irrecoverable without backups.
Theft
Having photos stolen due to a burglary, online hacking, or losing a camera is gut-wrenching. Always keep backups separate from your working photo archive.
Natural Disaster
Fires, floods, and extreme weather can destroy entire homes and offices in minutes. Keep redundant offsite backups to protect against nature's worst.
The stakes are high when it comes to safeguarding your SmugMug memories. Let's explore the backup options available.
Backing Up Your SmugMug Photos Locally
Local backups involve storing copies of your image files on devices in your home or office. Here are top methods for local SmugMug backup:
External Hard Drives
External hard drives provide abundant, affordable storage for photos. For SmugMug galleries, simply copy your entire SmugMug folder to the drive periodically.
RAID Array
A RAID setup combines multiple hard drives together for increased storage and redundancy. Files are written across multiple disks, minimizing risk of data loss.
Optical Discs
CD/DVD/Blu-Ray discs can create long-term archives of your SmugMug library. Their shelf life of decades makes them suitable for infrequent backups.
Local Backup Software
Tools like Apple Time Machine automatically copy new photos to a secondary disk. This "set and forget" approach makes local backup easy.
Quick Tip to ensure your videos never go missing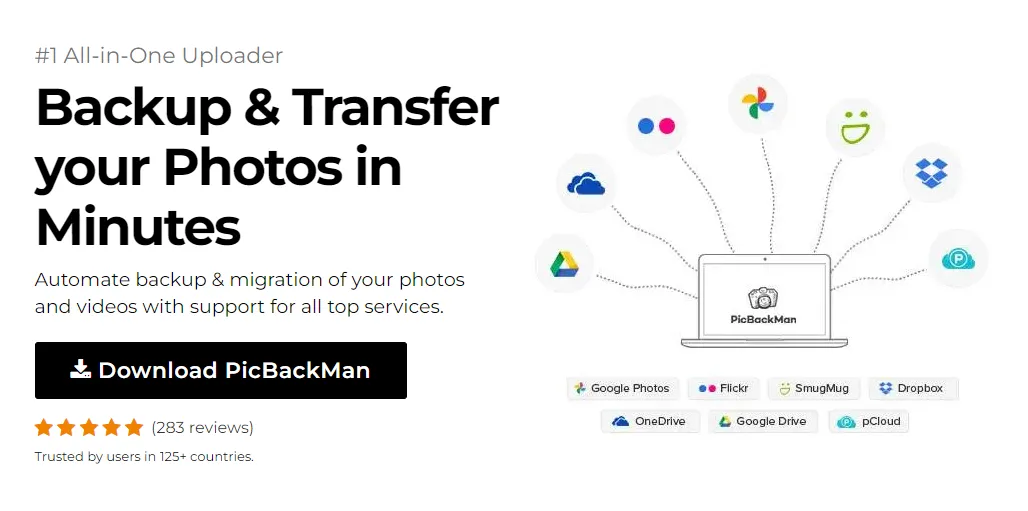 Videos are precious memories and all of us never want to ever lose them to hard disk crashes or missing drives. PicBackMan is the easiest and simplest way to keep your videos safely backed up in one or more online accounts. Simply Download PicBackMan (it's free!), register your account, connect to your online store and tell PicBackMan where your videos are – PicBackMan does the rest, automatically. It bulk uploads all videos and keeps looking for new ones and uploads those too. You don't have to ever touch it.
Cloud Backup for SmugMug Photos
Storing backups remotely with cloud services adds an extra layer of protection for your images. Here are top options:
SmugMug's Built-In Backup
One major advantage of SmugMug is their redundancy and backup capabilities. They keep copies of your photos on multiple secure servers across the globe.
Backblaze
Backblaze offers unlimited cloud backup for just $6/month. It will securely copy your entire SmugMug folder for easy online access.
Amazon S3
Amazon S3 provides affordable, robust cloud storage and backup. Many SmugMug plugins exist to copy your galleries to S3 automatically.
Dropbox
The popular Dropbox service allows you to selectively sync SmugMug folders for automated cloud backup you can access anywhere.
Automating Your SmugMug Backups
Manually backing up photos is time-consuming and leaves room for human error. Here are ways to automate protection of your SmugMug library:
Scheduling Backups
Use your operating system or backup software to schedule regular automated SmugMug backups. Set it and forget it!
Reminder Alerts
Calendar alerts act as a fallback to remind you to manually backup new galleries if your automated systems fail.
Sync on Import
Configure your Lightroom preferences to automatically copy new photos to a backup destination as part of your import workflow.
Versioning
Backup services like Dropbox enable versioning – storing multiple generations of a file. Recover from mistakes easily.
Storing Backups Offsite
Offsite backup means keeping copies outside your home/office to protect against local disasters:
Online Cloud Backups
Services like Backblaze provide offsite protection without having to physically move hard drives.
External Hard Drives
Periodically rotate external drives to a safety deposit box or trusted friend/family's house. Offsite without the cloud.
Testing and Verifying Backups
Backups provide no protection if they fail silently. Regularly test restores and check logs:
Restore a random sampling of photos from each backup periodically as a test.

Backup software can email reports detailing each backup result. Review these closely.

Occasionally do a full restoration to a separate device to confirm your process is solid.
Backup Strategy By SmugMug Plan
Your ideal SmugMug backup strategy depends on your account storage limits:
Power Users
Use local storage like external hard drives to backup original high-res image files.

Let SmugMug keep your lower-res gallery copies safe in their redundant cloud.
Portfolio Users
Since full-resolution originals are stored on SmugMug, cloud backup is less crucial.

Focus on local backups to guard against user error, file corruption, and total SmugMug outage.
Recovering Lost Photos After Failed Backup
Despite best efforts, backups can still fail. Here are some last resorts for rescuing your photos:
Engage a data recovery service – costs are high but photos may be retrievable.

SmugMug's support team has tools to restore lost galleries in some cases. Reach out to them.

Photo recovery software can rescue corrupt files and lost image data from disk drives.
Conclusion
Our photos represent our memories, creativity, and time invested capturing the world around us. Protecting your SmugMug gallery with rock-solid backups provides peace of mind against loss.
Follow this guide, and implement layers of redundancy both locally and in the cloud. Automate where possible, test often, and store copies offsite. Your precious images will be safe for decades to come.
Now go pickup your camera knowing your life's work is protected!