Backup Photos
/
Backup Videos
/
Migrate
/
Dedupe
Your photo backup assistant
PicBackMan is the fastest way to upload your photos & videos to your online accounts, automatically & effortlessly. Never lose your precious memories again with PicBackMan's auto multi-account uploader.
Free account • No credit card required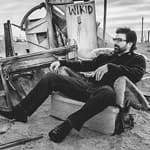 ... an excellent job of uploading more then 300GB of photos to 2 different services

...Works better than ANY other program out there that I have found to upload 1000s of pictures

... makes backing everything up a complete breeze. I don't know how I ever lived without it!
Never loose your memories ever again
PicBackMan is the assistant you need to get rid of that photo backup anxiety.
The Old Way
The PicBackMan Way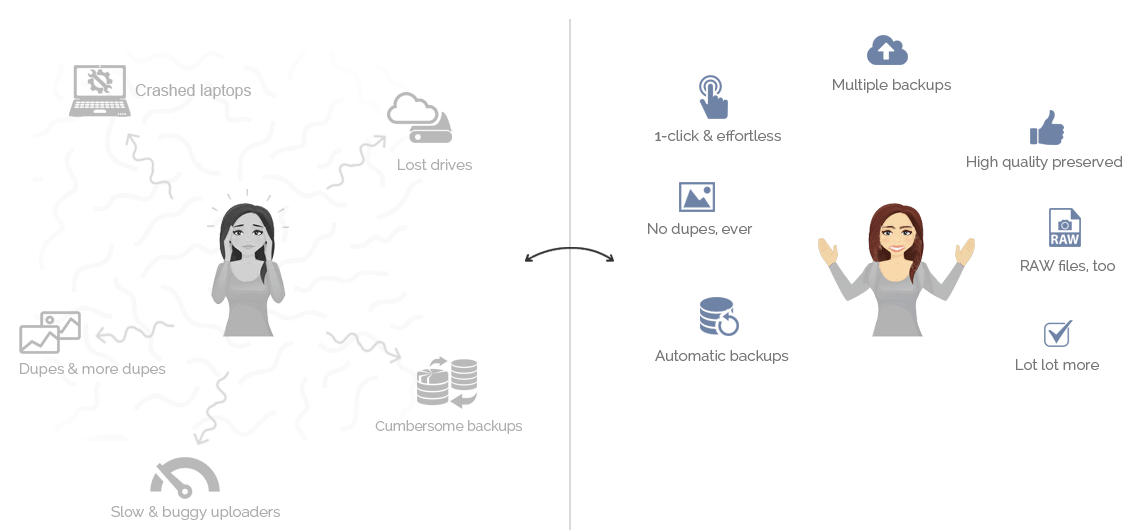 What makes PicBackMan the best uploader?
Powered by intelligent software, PicBackMan smartly handles the complexities of APIs, limits, throttling, timeout and other challenges to create a photo video uploader that never fails you.

Crashless
Tortured by photo & video uploaders crashing on you? Not anymore. PicBackMan crashless-ly backups up 1000s of photos & videos to your online accounts.

Duplicate Free
With PicBackMan, don't fear a flurry of duplicates uploaded to your connected account for you to sort through. Every photo is dupe-checked before upload.

Effortless
PicBackMan doesn't need you to upload 100 photos at a time or a sub-folder at a time which is cumbersome & time-consuming. It's literally 1-Click.

Continuous Backup
PicBackMan keeps looking for new photos & videos in your connected folders and automatically uploads them to your connected account, without you having to do a thing.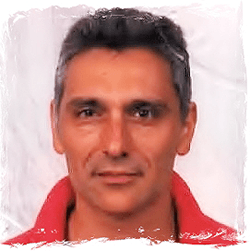 I have a large collection of photos and videos to upload on some of my storage account and I was looking for an application that can do it all automatically, and that it did especially well. I found a definitive answer to my needs thanks to this amazing program and that it is constantly improving whith new fantastic features.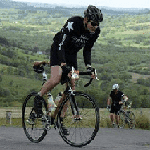 PicBackMan was really easy to setup and has been running for 3 days now backing up all my locally saved photos to Flickr. My photos are really valuable to me so it's great to be able to have them easily backed up to a secure location.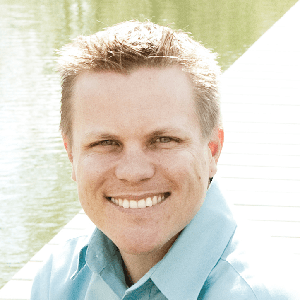 PicBackMan was an answer to many a prayer. How can I get this MASSIVE collection of photos onto a service that cripples uploading? PicBackMan. I uploaded approximately 85,000 photos in less than a month. It would have taken me close to a year to get all of those photos where they needed to go. Nothing short of brilliant.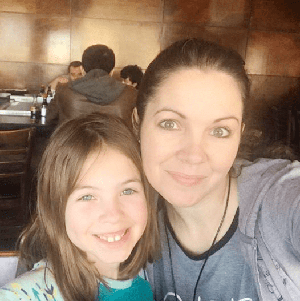 LOVE this program! Works better than ANY other program out there that I have found to upload thousands of pictures WITH SUB-FOLDERS to SmugMug! Thank you so much for what you do! :) #happycustomer
Your pictures are scattered. PicBackMan brings order to your digital memories. ...

PicBackMan automates the process of uploading pictures to multiple photo storage sites.

Top rated photo backup application.


It's easy, convenient and can handle thousands of pictures at once.

Countless features to serve every need
PicBackMan is packed with features and yet dead easy to use so you can get exactly what you want with your uploads without jumping through hoops.
No limits.

Unlimited uploads of photos & videos of all sizes.

Ongoing.

Continuous monitoring & upload of new photos & videos.

Smart De-dupe.

Deduplication of photos prior to upload.

Sub-folders too.

Automatic uploads from Folders & Sub-folders

iSupported.

Full iPhoto/Apple Photos support

Full Structure.

Replicate actual folder structure

Privacy.

All uploads are marked private by default

Redundant.

Upload to One or More Online Services at once

RAW.

Full support for raw image files
And a lot more. Don't find a feature here? Email us at team@picbackman.com & we will confirm.
Fanatic support
Experience it to believe it. Our entire team is our support team - when we are not building software and writing guides, we are helping you with PicBackMan.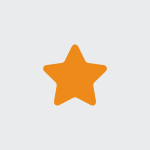 ... Support from the PicBackMan staff has been incredibly great. Above and beyond!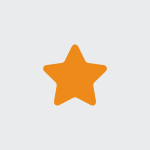 ... I have purchased things costing thousands that don't have anywhere near this kind of technical support.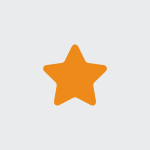 ... Their support is excellent, too. When I did have an issue, they sorted it out in just a few minutes.